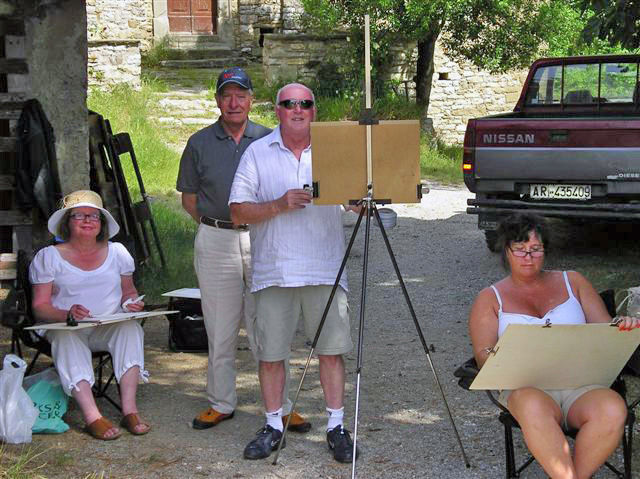 I've been painting in watercolour for over 30 years.
In 2000 I was a regional finalist on
Channel 4's
Watercolour Challenge
when I did this painting of Bath Abbey:
I have published numerous articles on watercolour painting and practice in
Leisure Painter
, Britain's most popular painting publication, and in
Paint & Draw
magazine.
On 3 June 2012 I was privileged to be selected by the BBC as one of 20 artists to paint the Queen's Diamond Jubilee Thames Pageant from the Millennium Bridge in London. As you may recall it poured with rain - a real watercolour painting challenge but I managed to complete three paintings of this historic occasion. The painting is of the Royal Barge approaching Southwark Bridge:
My impressionistic watercolours rely on speed and economy of brush strokes, what I call the ABC of watercolour painting - Accuracy of drawing, Brevity of brushstrokes, and Clarity of washes. Even my more prescribed line and wash paintings rely for their distinctive look on loose, impressionistic drawing with a sharpened matchstick dipped in black ink. My small on-site sketches are drawn with fountain pen or a felt-tip pen; I sometimes overlay the sketch with watercolour washes, often in a vignette style.
I give demonstrations and workshops around the UK and tutor painting holidays in Europe.
Since 2006 I've spent up to 3 months a year cruising with P & O Cruises to various parts of the world as resident art tutor. It's tough but someone has to do it! So far I calculate I've taught nearly 3000 cruise passengers to paint, most of whom had never painted before. Many of the Impressionistic Sketches in the Gallery were done on cruise ports of call around the world.